Rosemary Essential Oil, our Oil of the month, is perfect for Spring.   Spring has been in the air for some time now and as I walked past my local Italian restaurant, I saw bushes of this lovely herb in flower, I couldn't help but run my fingers through it and smell its divine, uplifting scent!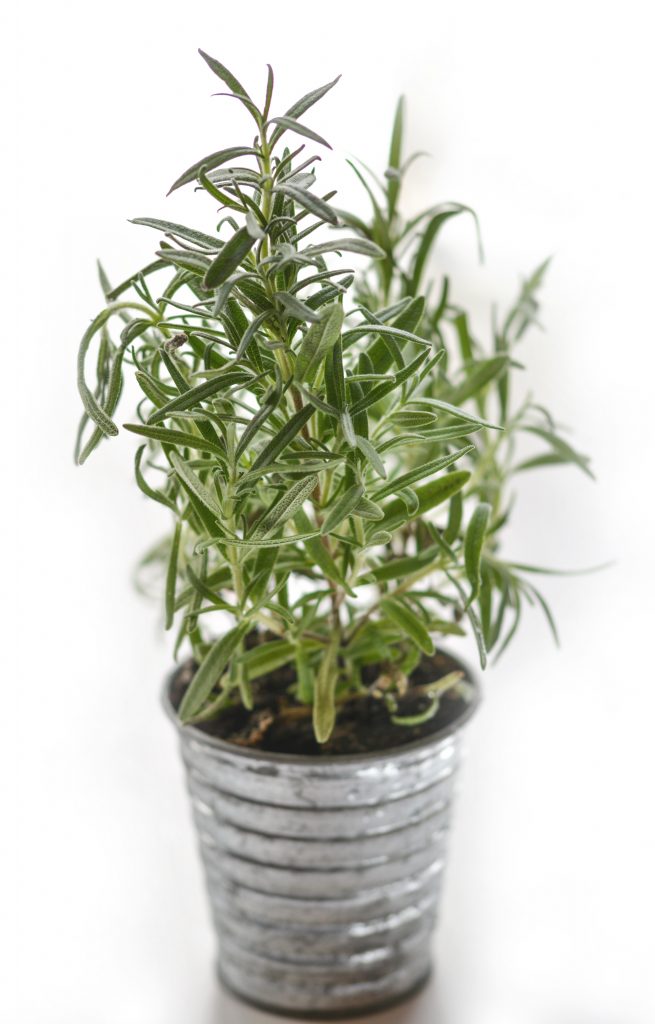 Rosemary – Latin name Rosmarinus officinalis is a shrubby evergreen herb, that can grow up to 2 metres high, with silvery-green needle-shaped leaves and small, pale blue flowers.  The whole plant is wonderfully aromatic. Native to the Mediterranean it is now cultivated worldwide in China, USA, England and across the Mediterranean, including Italy, Spain, Morocco and France. 
It has a distinctly strong, fresh herby/minty scent with a woody undertone; rosemary is one of the earliest plants to be used for food, medicine, magic and ritual.  It is considered a sacred herb in different cultures and has traditionally been used to drive away evil spirits and protect against the plague and unwanted visitors to your home.  Still today you will often see pots of rosemary either side of the entrance to a home, as a symbol of protection.
Rosemary is also known as the oil of Remembrance, helping us to remember who we really are and to remember and honour others.  It is traditionally placed onto coffins to symbolise remembering the dead; a sprig is still worn on Anzacs day to remember those who died at Gallipoli in Turkey, during the First World War. Rosemary grew on the hillsides where so many where killed in that terrible battle.
Rosemary Essential Oil Uses
The essential oil is extracted from fresh flowering tops by steam distillation and its predominant chemical constituents are pinene, camphene, limonene, cineol and linalool.
Rosemary is a very versatile essential oil, it is uplifting and stimulating to mind and body, great to use as a study aid or for preparation or revising for exams, presentation, etc.  It is also strengthening and protection for our body and energies, helping to protect us from both disease and negative energies.
Rosemary essential oil is analgesic, antiseptic, fungicidal, anti-oxidant, diuretic, rubefacient, stimulant and hepatic.  It is great for chest infections, flatulence, poor circulation and lung conditions.
Rosemary has been used for centuries for many different skin and hair complaints. It promotes healthy hair, reduces dandruff and greasy hair, regulates sebum so also good for acne and oily skins, it also has insect repelling qualities. 
Rosemary Essential Oil in Perfumery
In perfumery, it is a striking, clean, green, top/middle note, with a soft balsam undertone. It is very popular in both male and female Chypre and outdoorsy fragrances.
New Forest Aromatics Products that contain Rosemary:
Hand and Body Products:
Forest Essence Room Products – candles, room fragrances and reed diffusers.
This wonderfully green 'walk in the forest' scent includes: Rosemary, fir, Cypress and Cedarwood
Warm Hug Products –
The blend created for these products is designed to help you feel uplifted, refreshed and joyful.
The scent includes: Ginger, Rosemary, Juniper, Lemon Myrtle and Cardamom.
Please note: As with all essential oils – always dilute first before applying to the skin and consult a qualified aromatherapist if you are uncertain of how to use or dosage.  If you have a specific allergy or contra-indications avoid use.